Posts: 4
Joined: Thu Nov 08, 2018 6:29 am
New Caprice 9c1 owner, bought a 2012 through auction site advertised as bad engine. Picked up it ran on 7 cylinders showed a #3 misfire. Broken lifter and scarred up cam. Cleaned it up new comp cam and ls7 lifters with a GM DOD delete valley cover. All back together and reprogram with hp tuner software. Runs awesome for tuning did some 407 rwhp per hp program results then developed a knock that sounds like oil starvation in the valvetrain. Disassembled today hoping to find a smoking gun not that lucky. Oil pan removed to check pick up tube it's ok, oil pump removed and bypass looks ok. Where do I go from here?
---
A knock does not sound like a valvetrain issue. How was the oil pressure? Did you cut open the oil filter yet?
---
Posts: 65
Joined: Thu May 25, 2017 6:48 am
Location: Milwaukee
Did you change the oil pump with the DOO delete? I know I had to go with a high volume oil pump with my swap. There is a lot of info on the forum about this issue, but if you didn't change out the pump that is the issue. There is a YouTube on this topic, it may have been a G8 cam job but the the info is out there. If you can't find anything let me know, I can fish through some searches I did for mine.
---
I didn't change my oil pump and I have great pressure and no issues.
---
2011 Caprice PPV, 1 of possibly 4 in Canada!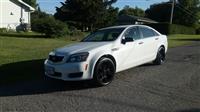 ---
I still don't understand the problem with using a stock oil pump. I did DOD delete and have great oil pressure with a stock pump while hot, cold, at idle, and at RPM. What is the issue? The car with issues in the thread you linked to had a non-stock oil pump in it. How is that example proof that you need to change the pump when doing DOD delete? I suppose I could be missing something here. I need to check some logs for the exact numbers, but with a stock pump I have about 60 psi hot above idle and in the 40s at idle while hot.
---
Posts: 316
Joined: Mon Sep 11, 2017 10:17 am
Location: North Jersey
If you have good PSI I don't think there's anything to miss, really.

For what it's worth, I believe the stock pump *IS* high(er) volume so swapping to another kind of high volume pump seems like a lateral move unless you have a lot of mileage.

Which is why I changed my pump. Service records show my car had the cam changed twice and with nearly 100k miles, it was a no brainer for me considering the minor added cost. Changed the pump on my 100k+ cammed f-body, and changed it on my near 100k mile Caprice. I went with a high pressure standard volume Melling 10295 I believe it was. Cold I am at 60psi, hot I am around low 30s depending on a few factors. I still have the bypass in place in my oil pan and get plenty of PSI when wailing on the car.

If I had less miles I would not have changed my pump. Stock pump I would hypothesize is higher volume due to all the innerworkings of the stock DOD setup and having to populate lots of smaller cavities with engine oil. Once those cavities are removed via DOD delete, well, there you go.

-J
2012 Caprice
!DOD : LS9 Cam : Pat G : Magnaflow : VCM

2008 CVPI
168k and going strong
---
I was going on what the OP was talking about. A knock and possible oil starvation. He didn't say what he did as far as the oil pump is concerned (replaced? stock?) when he did the DOD delete so I pointed to that thread to elicit some info from him as to the oil pump type he has.

All I saw was you jump in and say you have good oil pressure with your stock pump. If that's what he has, then that shouldn't be the problem. I think he has deeper bearing issues.
2011 Caprice PPV, 1 of possibly 4 in Canada!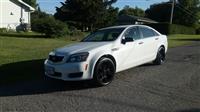 ---
Posts: 4
Joined: Thu Nov 08, 2018 6:29 am
I got a little to ansey about waiting for the T to come I. To check the actual pressure with a guage. To boot when we did the tune the sending unit was intermittent. It was stock pump as far as I know it was a Tennessee state police car I bought it with note saying bad engine. #3 intake lifter broke the pin and roller as well as all the roller bearings we're recovered in the bottom of the pan or in the pick up screen. I cleaned everything with kerosene in a spray bottle, I scraped carbon off the top of the Pistons and reassemble with new GM ls7 lifters and a mild comp cam so that I could keep the stock converter. Put it all back together like a new rebuild short of doing bearings and rings. Ran great no noise had a guy build a new hp tune and drove it had great success till we brought her back to low rpm and it got a valvetrain noise. First it sounded in the pass rear around cyl 8. Let it cool down and restart the noise then sounds up around 1,3 cyl. Can hear it best through the water pump mounting bolts, disconnected belt and still there so not water pump. Guessing it's oil pump I tore it all back down and the oil pump is scarred up and vanes aren't really smooth so I'm going new melling oil pump and thinking bearings
---
Posts: 65
Joined: Thu May 25, 2017 6:48 am
Location: Milwaukee
How did the oil pump swap work out? When I did mine and spoke to Texas Speed they HIGHLY recommended I change it out. I didnt understand why I needed it but I took there advice and have had no issues. They added a Melling pump in my DOD Delete kit when I ordered.
---