---
---
Jealous of that sound!
2011 Caprice PPV, 1 of possibly 4 in Canada!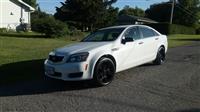 ---
---
Posts: 263
Joined: Fri Aug 12, 2016 12:13 pm
Location: Tampa, FL
Sounds good! Care to share what cam you used?
2014 Chevrolet Caprice PPV
2014 Chevrolet Stingray Z51
2016 AMG C63
2015 BMW X5 iDrive 50i
---
xcidmigs wrote:Tail pipes?
No, I'm building tailpipes now. The video is with 4 mufflers in the tunnel and dumps under the center of the car near the rear footwell area.
---
---