Posts: 8
Joined: Fri Mar 13, 2020 4:35 am
I have had my ppv for a few weeks now and I just got rims and painted the doors as well
Attachments

48D2564F-02A0-436B-AA12-CEF942C525D5.jpeg (2.18 MiB) Viewed 1376 times
---
Posts: 549
Joined: Mon Sep 11, 2017 10:17 am
Location: North Jersey
Nice! Those doors werent just vinyl? Either way looks good.

-J
2012 Caprice
2008 CVPI
---
Very nice! 110% better.
2011 Caprice PPV, 1 of possibly 3 in Canada!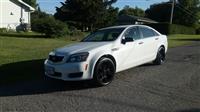 ---
Bowtiebandit

wrote:

↑

Sun Mar 29, 2020 4:01 am

I have had my ppv for a few weeks now and I just got rims and painted the doors as well
Looks good. Did you go with the Camaro size tires, or the PPV ones?
---