Hi all. I'd like to manage a pizza and cars get together to take place in Queensbury, New York this summer. Obviously sometime after the Covid 19 thing has passed. Queensbury is located 10 minutes away from beautiful Lake George. There's plenty to do and see here. After I get enough feedback I can work on when, exactly where, etc.. Thank you; I look forward to hearing from everyone interested. Rich.
2015 Caprice PPV work in progress.

2008 Chevy Kodiak pick up.

2008 Toyota Avalon TRD.

2007 Honda Sabre 1100.

2005 Chevy Silverado Quadrasteer.

2004 Harley V Rod drag/show bike. For sale.

1986 Honda VFR 750F. 2400 original miles.

1982 Datsun 720 pick up. 21000 miles. Restoration project.
---
I m in if available !!
2016 C1
---
I'd be interested but hopes of any kind of normalcy are far away.
2011 Caprice PPV, 1 of possibly 3 in Canada!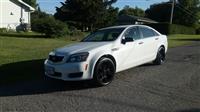 ---