Forum rules
One thread per car per member in this section. No thread hijacking in this section please, if it's strictly a tech discussion please move it to the appropriate sub-forum - moderators can assist if needed or requested.
Hello all. I have been a member for awhile and have never really been active. I am however pretty active on the Caprice Facebook page. i figured I am finally far enough along to create a build thread. I am going to try to start from the beginning and I will try to keep everything in chronological order!
---
Here is the first day I picked it up. I bought it in December of 2016 in Wilmington, NC. When purchased the car only had 19k Miles!!! It was previously a detectives car in new Jersey where it was wrecked and taken out of service. The wreck was only the front driver corner and did not total the car. From the research I did, I found that the detective had a stroke, and coasted into the side of a building. The car was then auctioned, repaired by a shop, and sold from a dealership where the guy I bought it from had bought it. I paid a whopping $15,500. Which now seems high. But at the time it was still under warranty, and only had 19k miles!
Attachments

first day interior.jpg (668.32 KiB) Viewed 1216 times

first day 2.jpg (952.14 KiB) Viewed 1216 times

first day3.jpg (989.49 KiB) Viewed 1216 times
---
Very nice and absolutely gorgeous in black!
2011 Caprice PPV, 1 of possibly 4 in Canada!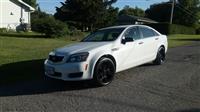 ---
The car stayed completely stock for the next year, until I bought a VCM OTR intake. I got the intake installed and it sounded and felt great. here's a picture of the intake (not the day I installed it, But the only picture I could find)
Attachments

intake.jpg (2.45 MiB) Viewed 1187 times
---
The DAY AFTER I installed the intake, I was driving to a shop to get the ABS, Stabilitrak, and TC light diagnosed. And I rear ended a pickup truck on the interstate. The car wasn't leaking any fluids and still drove fine. I drove it home and to a repair shop the next day. The damage estimate was $10,500!!! and the car was totalled out by USAA. Which ended up being a blessing in disguise, Because USAA paid the bank, and I bought the car back for $1,700.
Attachments

Totalled.jpg (245.59 KiB) Viewed 1187 times
---
Once I got the car back home I was able to find basically all the parts I needed from a car being parted out in Virginia. I paid about $700 for a hood, grill, headlight, fender, and a rubber trunk liner. Plus an additional $100 for time and packing material, and $200 for shipping, I had everything I needed to fix the car for about $1000! Here's a picture of it tore down waiting for my parts to come on the greyhound.
Attachments

totalled tear down.jpg (351.6 KiB) Viewed 1186 times
---
While waiting for parts I found a great deal on some camaro wheels. I paid $200 for the set, with no tires. They came already powder coated black.
Attachments

Wheels.jpg (468.08 KiB) Viewed 1173 times
---
The hood I got wasn't perfect. but for the price I got it for I was happy. The bumper also has missing paint on it still because I did not replace it from the accident.
Attachments

new hood.jpg (280.05 KiB) Viewed 1173 times
---
Here's some pictures of it after I the repairs. Everything was pretty easy. Only issue I ran into was the mounting for the airbag sensors was different. parts came from a 2011, and mine is a 2012.
Attachments

aftercrash3.jpg (345.21 KiB) Viewed 1173 times

aftercrash1.jpg (215.05 KiB) Viewed 1173 times

aftercrash2.jpg (263.82 KiB) Viewed 1173 times
---
Now that it was fixed and I didn't have a car payment anymore, I had a little extra money. i bought some knock off g8 headers off ebay and installed them. The headers were $225 shipped. I deleted the oil cooler as well. For the radiator hose I just used a coupler I found at oreilly for $5.
Attachments

radiator hose.jpg (1.93 MiB) Viewed 1173 times

header1.jpg (177.29 KiB) Viewed 1173 times
---