Forum rules
Acceptable items for posting include OEM new/used replacement parts, aftermarket parts, salvage yard parts, maintenance/repair tools & tooling, service publications, programming equipment, and misc. items for Caprice PPV cars. This forum is moderated, posts from members with less than 5 forum posts may be removed. Any questions please contact a moderator.
Somehow in my mind I'm thinking its cheaper to buy a car than a hood, I'll make it up in volume I guess ? so here we go again, Have a 2014 that I'm going to take apart ....I'm going to keep the front end motor/trans driver airbag and knee bolster bag and seatbelts, i'm keeping the drivers side doors and radio. I have piles of 12 parts since I gutted 2 already. I have lots of 2012 doors . car was punched hard in rear nothing good back there !!
Attachments

69-1.jpg (289.37 KiB) Viewed 2712 times

69-5.jpg (370.51 KiB) Viewed 2712 times
---
---
---
Posts: 55
Joined: Mon Jan 23, 2017 8:11 pm
Location: South side chicago il
---
---
shame its not a 15-17
---
Posts: 4
Joined: Fri Mar 16, 2018 6:33 am
Why did you photoshop / edit the pictures? Strange huh?
---
Posts: 1719
Joined: Sat Feb 07, 2015 8:31 pm
Location: Pearland, Texas
Hmm, headlight modules look good in those pics. How are they in real life, and are they available?
Gene Beaird,
Pearland, Texas
2012 Caprice 9C1
1992 B4C 1LE Camaro
2010 Tahoe PPV (her car)
1995 DGGM Impala SS
1996 BBB Impala SS (11-second DD)
1985 Firebird - 310 LS1 C Prepared autocross car.
And some others
Do YOU have my SPID?
---
PM sent!
2011 Caprice PPV, 1 of possibly 4 in Canada!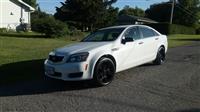 ---
Posts: 119
Joined: Tue Jan 10, 2017 6:43 pm
looking for the plastic that's on the console next to the shifter if no holes in it, Thanks
---