This. Well a few weeks ago but still.
---
Posts: 580
Joined: Mon Sep 11, 2017 10:17 am
Location: North Jersey
Clean! Some PBM G8 handles would go well with it
-J
2012 Caprice
2008 CVPI

Both gone but not forgotten...
---
---
Not today, last Friday, filled the tank and put her to bed in storage for the long winter slumber, just before the snow hit.
2011 Caprice PPV, 1 of possibly 3 in Canada!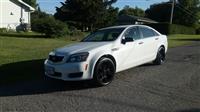 ---
Did the Trans Fluid, filter, Camaro pan. Such a weird procedure. I half think it was previously over-filled but all other indicators are that nothing more than oil changes occurred on this car (cabin filter and air filter both looked original). I put the Camaro pan and filter on. My car has 57K miles. Trans fluid looked kinda dark. I've owned the car for 2K miles.
Somebody has to help me understand what the "2nd gear flare" is all about. I hold the Traction Control button for 5 seconds, put the car in manual shift and launch out of first. I tap forward at around 6K RPM and the engine seems to give up for the shift and then re-engage after in second. Is that flare folks are talking about?
Not today but recently did cabin filter, WW blades, air filter, oil change with Costco oil (Surprisingly made engine quieter - don't know what previous oil was but filter was some bingo brand) and Wix filter. New tires from Costco (better deal for same tires than Tire Rack) - "Michelin PILOT SPORT AS4 235/50ZR18 101Y XL BSW UHP ALL SEASON TIRE " on the steel wheels.
Looking forward to cam upgrade. Stock on these beasts is: .478/.466 198/208 116 LSA. Kinda want to got 550/550 210/230 115 LSA. All my target numbers are "about". Mostly want to disable DOD but what a great opportunity to upgrade my lift and duration
. Will need: cam, lifters, push rods, other DOD Delete items and of course a nice tune.
Current: 2013 9C3, Solo axle back, deeper trans pan, 3.27 diff, 12VoltSolutions Remote, Class III hitch, MPVI2, Android Auto capable radio
Future: Cam/lifters/springs/retainers oil pump, Headers/full 'zaust, high flow cats ('cause I care about emissions... test).
Wish List: change stroke from 3.622 to 4.0 for a 402 (6.6)
---
Posts: 129
Joined: Sun Mar 03, 2019 2:18 am
Found and mounted this on to an existing plate coming out of my headliner
Attachments

F22AE8BC-DF31-4BD0-AFD6-314F26D82F42.jpeg (3 MiB) Viewed 1405 times
---
Got her out of storage on this beautiful day. One tire went flat but the 10 year old original battery started it right up, which was disconnected and left in the trunk all winter. By the time I got it home, the CEL came on. Hooked up the Tech 2 and a high voltage on the bank 1 O2 sensor code. Live plot showed it dead. I'll have to check if it's my wire extension job that's causing it or it really is dead.
2011 Caprice PPV, 1 of possibly 3 in Canada!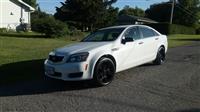 ---
Checked the wiring on the O2 sensor on the Caprice, all good. Drive it some more to get the error to come back on and I'm not getting it
. Tech 2 shows no error codes and the sensor is working correctly now just like the other bank. Maybe just needed to shake some winter cob webs out.
Then went to town on the header tube that's rubbing on the steering shaft as I was really tired of feeling the vibrations and the noise in the steering wheel. Used my Gordon Freeman bar with my 3lb mallet, pounding it on the end. Kept whacking at it until it moved a little. Man those tubes are tough for cheap Chinese headers. Dented it just enough to clear it. Now I'm happy and will stop the wife asking "what's that noise?".
2011 Caprice PPV, 1 of possibly 3 in Canada!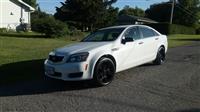 ---
Posts: 2167
Joined: Sat Feb 07, 2015 8:31 pm
Location: Pearland, Texas
Nah, she'll just ask about the other noise.
I washed my Caprice last weekend. It's been mostly parked in the garage for most of last year and into this, primarily because I don't go anywhere. It had quite a film of dirt on it from being driven after a rain, and then a layer of dust and pollen from being parked. Man, it looks nice when clean!
I then drove it to get my first haircut in over a year. Even in traffic, the car is still fun to drive.
Gene Beaird,
Pearland, Texas
2012 Caprice 9C1
1992 B4C 1LE Camaro
2010 Tahoe PPV (her car)
1995 DGGM Impala SS
1996 BBB Impala SS (11-second DD)
1985 Firebird - 310 LS1 C Prepared autocross car.
And some others
Do YOU have my SPID?
---
System Manager
Posts: 1962
Joined: Thu Nov 29, 2012 4:32 pm
Location: East Central Florida
Contact:
I insured it! And what a battle it was through Progressive. I won a bid for a surplus 2015 3.6 out of North Carolina, I'm doing a fly-n-drive to get the car Wednesday night, back home sometime Friday. 106K miles, looks like a staff car for NC DPS. Seems to spend most of it's time in NW North Carolina from the records showing on AutoCheck around the Spruce Pine, Bakersville and Marion areas. I've got a request into the state government for the records on the car so we shall see. Looks pretty unremarkable from first glance, at least it's carpeted!

Progressive did not have the Caprice in their system as a valid car model, I initially added it to my auto policy Saturday night but had to use the "other" model category under Chevrolet to do it. Called today to see why I didn't have a price on it, talked with a nice rep that took the time to research the model a bit and performed a quick internal process to have the Caprice added as a valid model. In the meantime it's insured under a declared value policy so I'm good to go with the friendly tag agency.

Doing a fly-n-drive to pick it up Thursday AM from State Surplus, then to the DMV up there for filing the title and buying a temp tag for the ride home, then down I-40 and I-95 to Central Florida. I managed to score a $24 flight through Spirit on their Wed night Orlando to Raleigh flight on a deep discount promotion to put butts in seats. The $37 carry-on bag charge is more then the stupid base ticket cost!

The Caprice is replacing my wife's 2015 Volvo S60. She's working from home now, so no sense letting the Volvo sit in the driveway and nosedive depreciate like all foreign cars do. And I get a fun project car to tinker with again! I ordered my AVS Ventshades for it Saturday as well, I have a feeling that a quick first mod project will be a replacement center console so I can get cupholders and a center compartment. I'm leaning towards the Camaro center console as an interim solution as I don't have to monkey with replacing the entire dash to make a SS console bolt up. After that will be a steering wheel swap to leather and then swapping out the steel wheels for something better.

Eric
System Manager and your tourguide for the day. 2015 Caprice 3.6, former NC DPS car, for right now bone stock., .
---