For some odd reason the last couple days when I reverse out if garage my brakes feel like they are grinding. Today it threw the mentioned stabilitrack and abs faults but cleared upon vehicle restart. I checked and all 4 brakes look good, with no unusual warping or anything. The car still brakes like a champ with no other issues. Any ideas? Or is this the excessive brake dust issue on stock pads. I have 11k on the car, and I haven't done more than a handful of burnouts.
---
It could be an intermittent fault in the ABS. You would have to read the codes while the light is on because as soon as you restart, codes are reset. And to read them, the only thing I know, short of a high end scanner, would be a bluetooth OBD adapter and the Android app Car Gauge Pro. It's the only one I know that can read other than just powertrain codes.
2011 Caprice PPV, 1 of possibly 4 in Canada!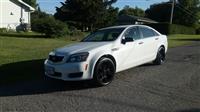 ---
---
I had that same fault, turned out to be a loose connecter on one of the abs sensors but my 2014 has 70k, just another place to check.
Ray

2014 ppv
---
Dealership said faulty speed sensor... Thank goodness fur bumper to bumper warranty. Thanks for input everyone.
---