is anyone familiar with this condition? I just bought my 2012 Caprice PPV a week ago and the check engine light came one. I took it to O'riely's and they scanned it, came up as high voltage from the oil pressure sensor. Should I roll the dice and buy a $70 switch and hope that is the problem or are these cars known for some other ailment that would cause this? any help would be greatly appreciated!!
---
just an update: it was the oil pressure sending unit...$70 later and it's all good!
---
Good to know. 90% of the time, it's a fault with the sending unit.
2011 Caprice PPV, 1 of possibly 3 in Canada!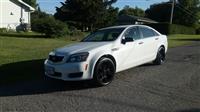 ---
---
I had this exact code this morning P0523..
What brand switch did you buy..?
And where is the switch located...?
---
I'm not sure what brand it was, I bought it at Orielys for about $74. it is located at the back of the engine on top just like the old small lock chevy oil pressure switches. it's actually not too hard to replace. they reset the code at orielys and I have had no problems since.
---
Buy AC Delco off Amazon, very close to chevy employee price! Grab a new screen while your at it. Deep socket short extension easy peasy
2011 9C3 Caprice PPV Phantom Black
1995 MG5 Yukon GT Black
1993 Harley Davidson FLSTC Black
---
Well I changed out the sensor and it fixed the P0523 code problem... What a pain in the ass to change out this sensor and filter... It looks as though the sensor was seeping up through the electrical pins...
Attachments

97B9A20D-6CC0-4602-B33C-58CC0B600DBA.jpeg (1.83 MiB) Viewed 3620 times

C1280094-8F84-4128-84FA-911ECFD012CE.jpeg (1.4 MiB) Viewed 3620 times
---
yikes!! mine wasn't that bad...but you gotta admit, it's a cheap cure!
---
Does anybody have a part number-either GM or parts store-for the sensor and screen? I tried finding it on GMPartsDirect with no luck.

Thanks,
Jim
Jim Chesnutt
1968 Camaro -my first car.
1995 Black/White 9C1 Caprice
2012 Alto Gray Metallic 9C1 Caprice--The HoDag-Solo axle back exhaust, improved racing OTR CAI intake.
2013 Black/White 9C1--NADACOP-DOD Delete with BTR Stage II cam, Kooks Headers, Solo Hi-flow Cats and Header Back Mach Balanced kit, WestBendDyno tuned.
---